Rare Kyffin Williams painting goes on sale at the Gallery...

Jenny White, May 2017
A beautiful and rare flower painting, titled Moon Daisies, has been in a private collection since it was painted and is expected to ignite a lot of interest when it goes on show.
Kyffin Williams was famous for his moody palette knife paintings of the North Wales landscape close to his Anglesey home, but he did occasionally paint other subjects, including portraits and still life.
He was renowned not only as one of Wales' greatest artists but also as an outspoken critic of much modern and conceptual art, and as a champion of the traditional skills of draughtsmanship - which are very much on show in Moon Daisies.
His exhibitions used to attract overnight queues of excited buyers, who often paid over £50,000 for his paintings
Since his death in 2006 his paintings have continued to be highly sought after, and Moon Daisies is especially interesting because of its rare subject matter.
"It's a truly beautiful painting," said gallery owner Mary Yapp, who was Kyffin's friend and agent. "I expect it will attract interest not only from potential buyers but also from people who are simply eager to see it.
"It is beautifully framed by Derek Hiscock, whose company Joints in Cardiff framed all of Kyffin's work. At 30 inches by 24 inches, it's a substantial sized painting and is on sale at £38,000."
---
New landscape paintings by David Tress
Jenny White, April 2017
Widely respected for his expressive, energetic depictions of the British countryside, Tress has made the landscape of Pembrokeshire a major focus for his work since moving to Haverfordwest in 1976. "I love having Pembrokeshire as my core subject but I don't want to paint it all the time because you can lose the spark, so once or twice a year I travel around Britain," he says.
Tress' latest collection of paintings includes work made as a result of a recent visit to Dartmoor - an area he had not visited since childhood. "I find the sheer variety of the British landscape endlessly fascinating but I tend to gravitate to the North West and rarely go to the West Country. I thought it would be interesting to explore Dartmoor for a change; the textures of the moor are very different from other upland areas."
He was also struck by the vast expanse of the landscape, and by the fact that there are traces of mankind's ancient history in the form of stone circles, field enclosures and traces of Iron Age houses.
While Tress largely focuses on uninhabited rural areas, the signs of man's habitation are a theme in much of his work. "These scars convey a sense of a relationship between man and the landscape that goes back thousands of years - it provokes an emotional as well as a visual response. The paintings say as much about me as about the landscape," he says.

His Pembrokeshire paintings in particular are very much a record of his emotional response to a landscape he has come to know intimately over several decades. Just as he records traces of mankind's interaction with the landscape, he also vividly conveys his own relationship with the places he paints. This is what makes his work so powerful and evocative.
---
Welsh scenery is the subject of Gwyn Roberts' latest exhibition at The Albany Gallery
Jenny White, March 2017

Gwyn Roberts is a highly regarded artist by both the public and critics alike. He is one of Wales' premier landscape painters and he is renowned for his ability to paint from a walker's perspective.
The rugged landscape of North Wales will be to the fore in Gwyn's latest exhibition at The Albany Gallery - but the exhibition also reveals the artist venturing into new territory, with a series of paintings of river scenes.

He was born in 1953 in the Conwy Valley in the Snowdonia National Park. From an early age, Gwyn has spent his spare time walking, climbing and immersing himself in the beauty that surrounded him. He was educated at Llanrwst Grammar School and then studied Fine Art at Norwich School of Art and Cardiff College of Art during the 1970s.
His life as a professional painter began with meticulous still life paintings, but a thumb injury eventually forced him to take a new approach to his work, picking up the palette knife he had not used since his college days and learning to use it in a uniquely expressive, dynamic way. This change coincided with a switch in focus from still life to the Welsh landscape - a subject that proved perfectly suited to the palette knife and his great love of Wales.
"I think the texture of the paint lends itself to the nature of the Welsh landscape," he says. "When you look at the Welsh crags and rocks, they are cubist in their appearance and so dramatic. If you put a mark down with a palette knife it does give you a feel of that."
Gwyn's great love for Snowdonia remains a huge influence on his work, as does the Welsh coastline, but in recent months he has found himself inspired to paint river scenes.
"I was up in north Wales in the Conwy Valley where I was brought up and I started exploring places I used to visit as a child," he says. "I was particularly drawn to glens with steep sides and rivers gushing through them. I was struck by the patterns of light coming through the trees, and I decided to have a go at painting it. I really enjoyed it, so after that I decided to paint the waterfalls in the Neath Valley and Brecon Beacons as well."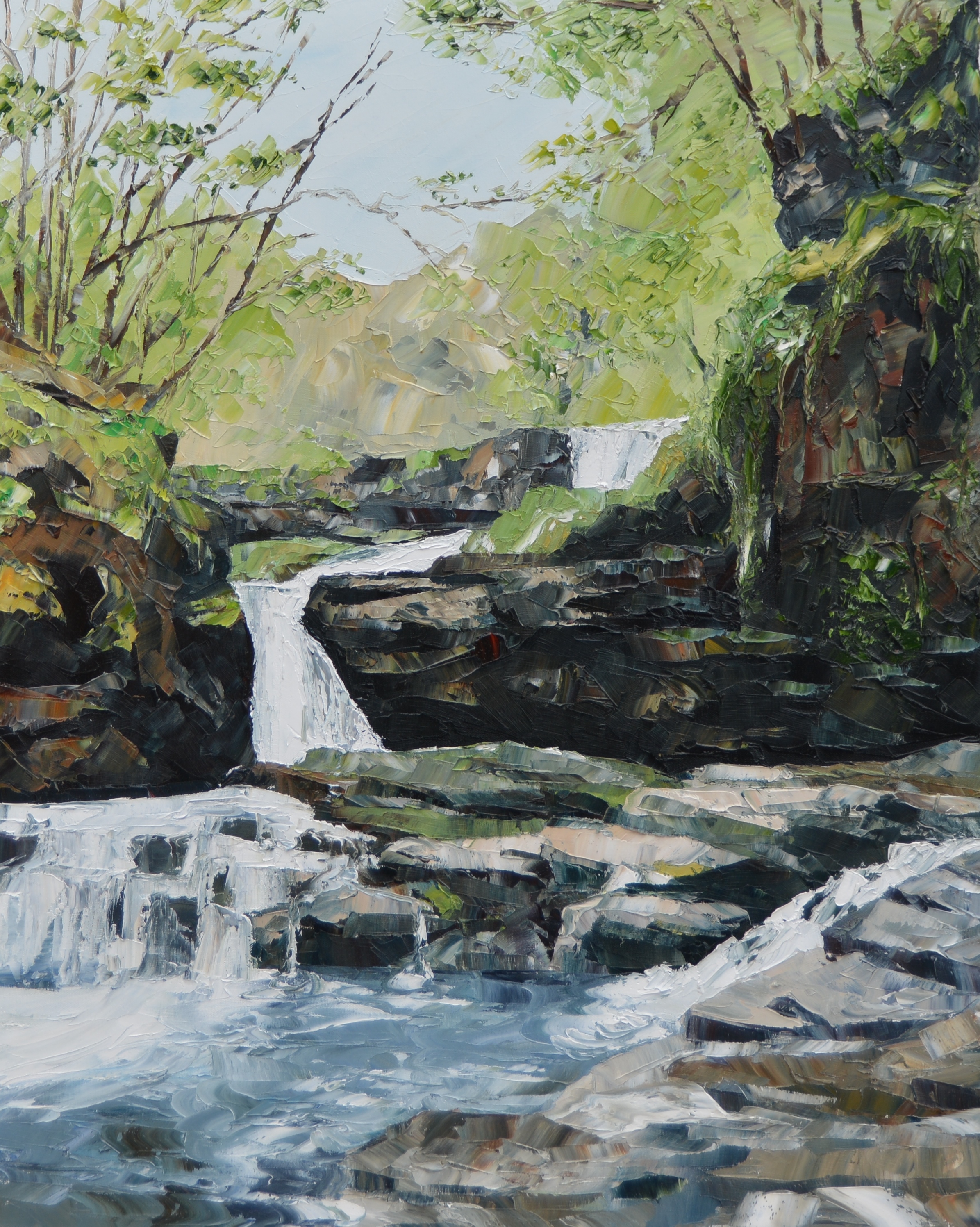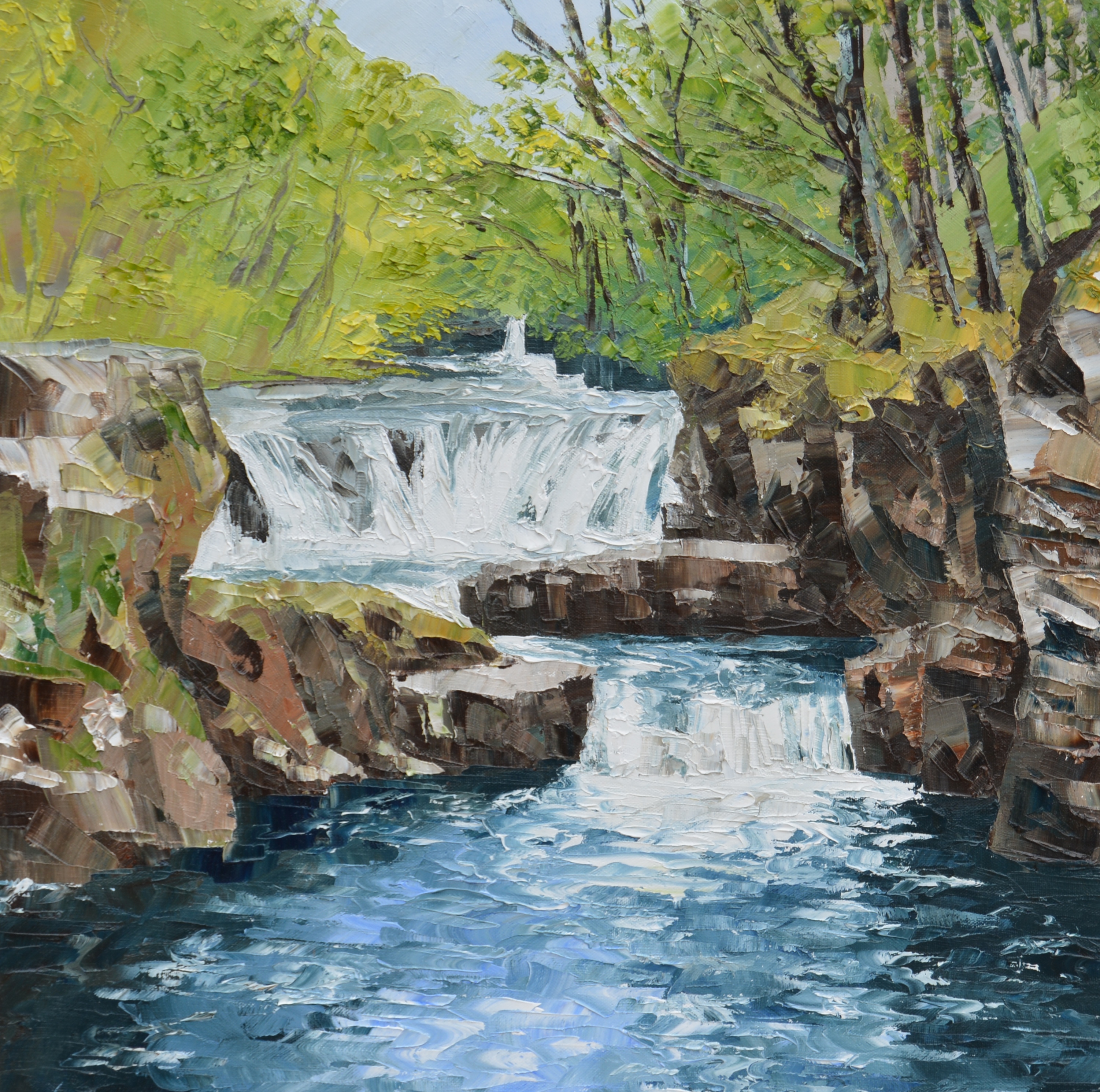 The resulting paintings make up about a third of the new show, with the rest focusing on mountains and the coastline.
"It's been a pleasure to explore this new theme," says Gwyn. "I've become fascinated by the colours and textures of the atmospheric half hidden areas of the river banks."
---
Stunning Welsh landscape paintings on show at Cardiff's Albany Gallery
Jenny White, February 2017
The beauty of Wales is the subject of the latest exhibition at Cardiff's Albany Gallery, which brings together three artists deeply inspired by the Welsh landscape: Maggie Brown, Sian McGill and Stephen Jon Owen.
Maggie Brown lives in Pembrokeshire, where she focuses on teaching art and capturing the mood and atmosphere of Pembrokeshire's hidden places. "My paintings are a record, capturing quiet times of observation, of scrubby moors and intimate hedges - to places so disregarded, that I feel they deserve a second glance and be preserved by conservation and interpretation," she says.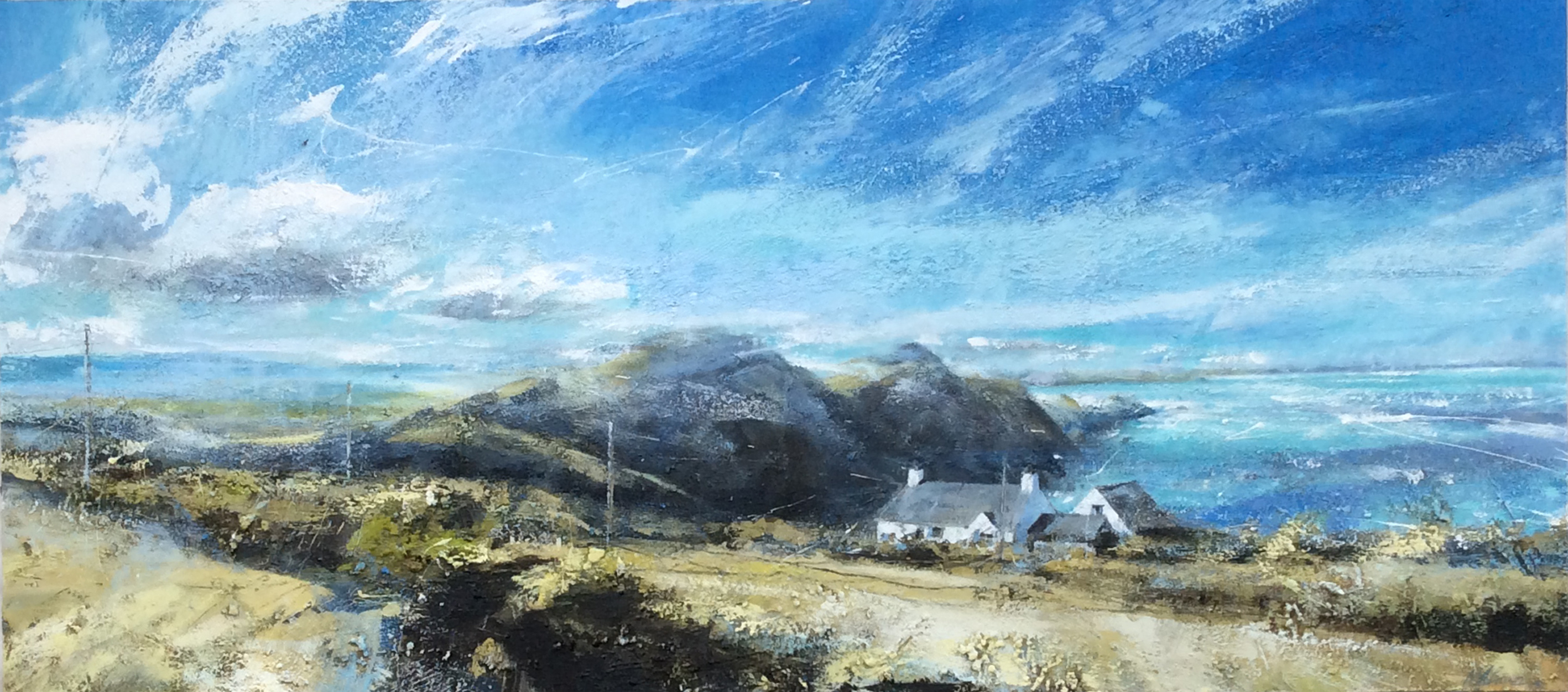 "I am passionate about nature and art, and since my move to Pembrokeshire, I have painted the special landscape in all its wild glory, the elements, and the unique light by using colour, surface pattern and texture with a variety of media."
Sian McGill was born on St Davids Day 1973 in Pontypool, South Wales. After gaining a degree in English at Swansea University, she returned to a childhood love of art, pursuing this alongside bringing up her young family. Painting soon became a passion and went on to become a full time occupation. She now regularly exhibits at galleries in Wales and Cornwall, and has also had work selected for the Royal Cambrian Academy.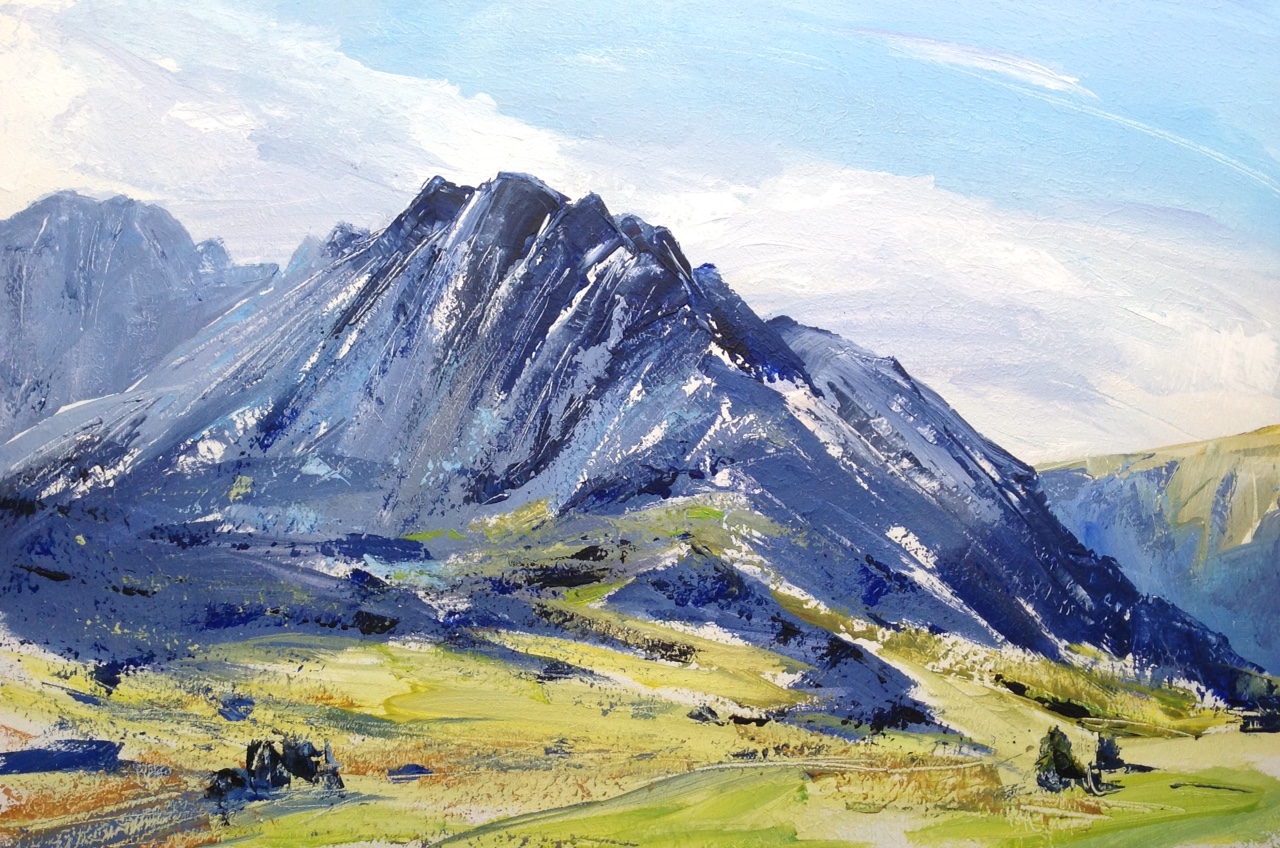 Much of her inspiration comes directly from the places where she loves to be, outdoors, enjoying the coastline and mountains of Wales. "The paintings are a personal response to the landscape, endeavouring to capture something of the experience, the energy, the ambience of a place - how it feels to be there on that day," she says. An expressive and intuitive painter, she works mostly with a palette knife but also paints with brushes, using her fingers or whatever else comes to hand to get the desired effect.
Stephen Jon Owen was born in Caernarfon in 1959 and now lives in the Caernarfonshire village of Groeslon. A self taught artist, his work is strongly influenced by the scenery that has surrounded him all his life. As a young man he was encouraged by his art teacher, the respected Welsh painter William Selwyn, and he went on to develop a unique, expressive style whose bold strokes and deep, earthy colours perfectly capture the rugged grandeur of North Wales.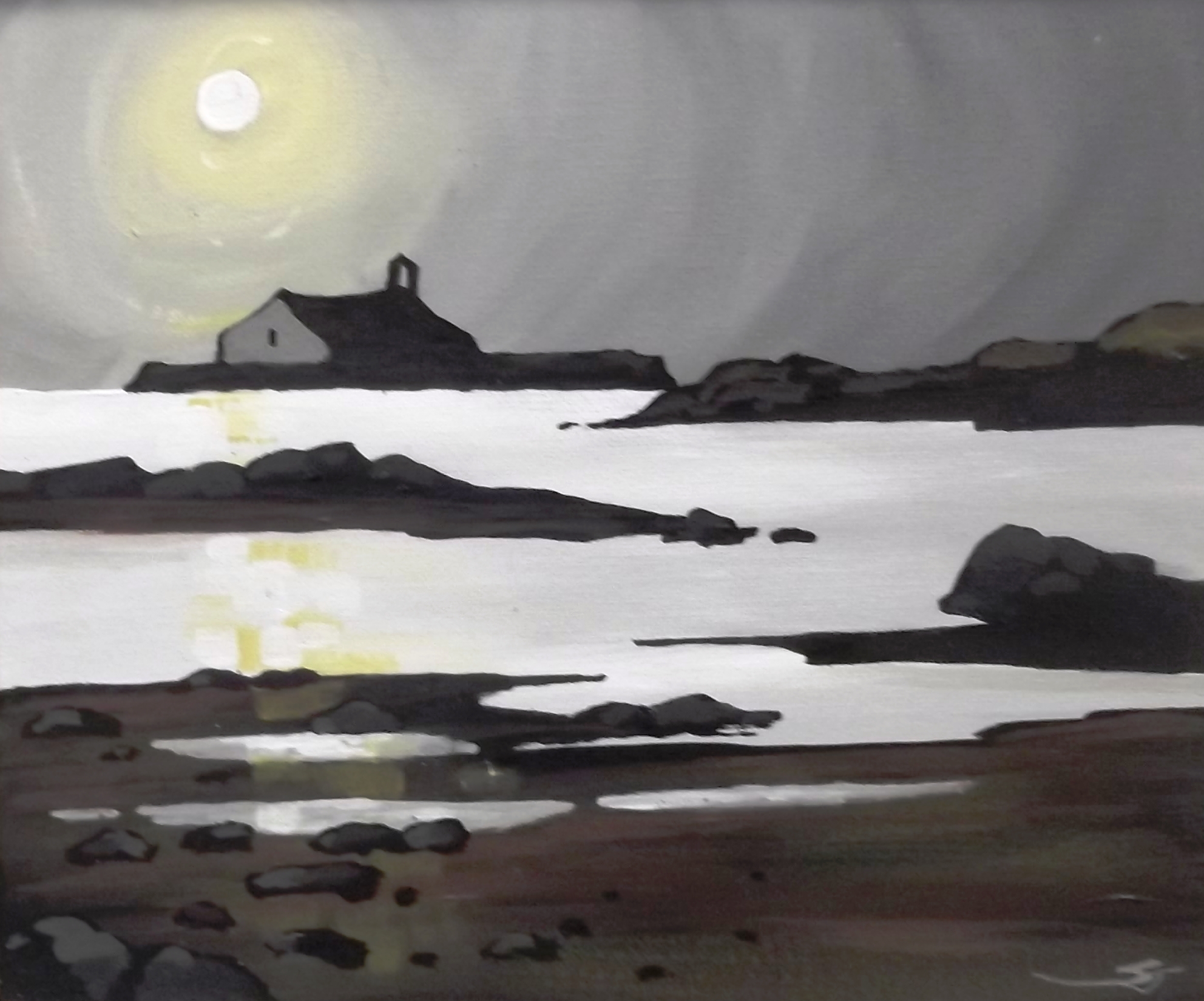 From villages and farms to old quarrymen's cottages, he paints with deep lyricism and passion. "Stephen's work perfectly completes this trio of excellent artists we have brought together for this show," said Albany Gallery owner Mary Yapp. "Each painter has an expressive style and their own unique palette, which really captures the essence of the parts of Wales in which they live and work."
---
Drawings are the focus of the latest show running from 19 January to 11 February
Jenny White, January 2017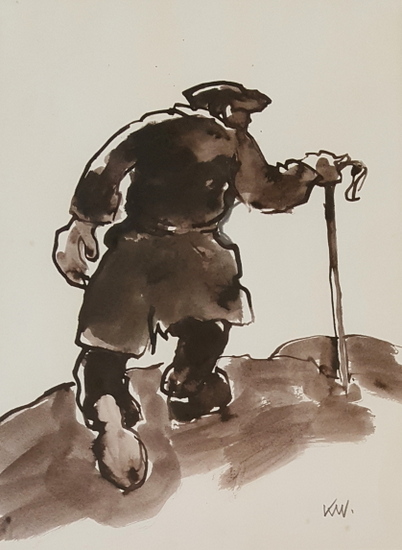 The exhibition features work from the gallery's regular artists, including four drawings by the late Sir Kyffin Williams, and contributions from newcomers to the gallery such as Sally Muir. "Three of Kyffin's paintings are of sheepdogs and Sally is also known for painting dogs, so that's a popular theme in this year's show," said gallery owner Mary Yapp. "We discovered Sally at the Affordable Art Fair and feel her work is perfect for the gallery. She is very well established and besides being an exhibiting artist, she has also had her dog paintings used in wallpaper designs."
Another newcomer to the gallery is Alys Holly, daughter of the highly popular Welsh painter Nick Holly. Alys has contributed a superb, lifelike drawing of Sir Tom Jones to the exhibition. "We're delighted to be able to include Alys' work – she has clearly inherited her father's talent, but already has a style of her own," said Mary.
The show is also a good chance to discover new work by respected regular exhibitors such as John Lines, Colin Carruthers, David Porteous-Butler and Nicholas St John Rosse RSMA.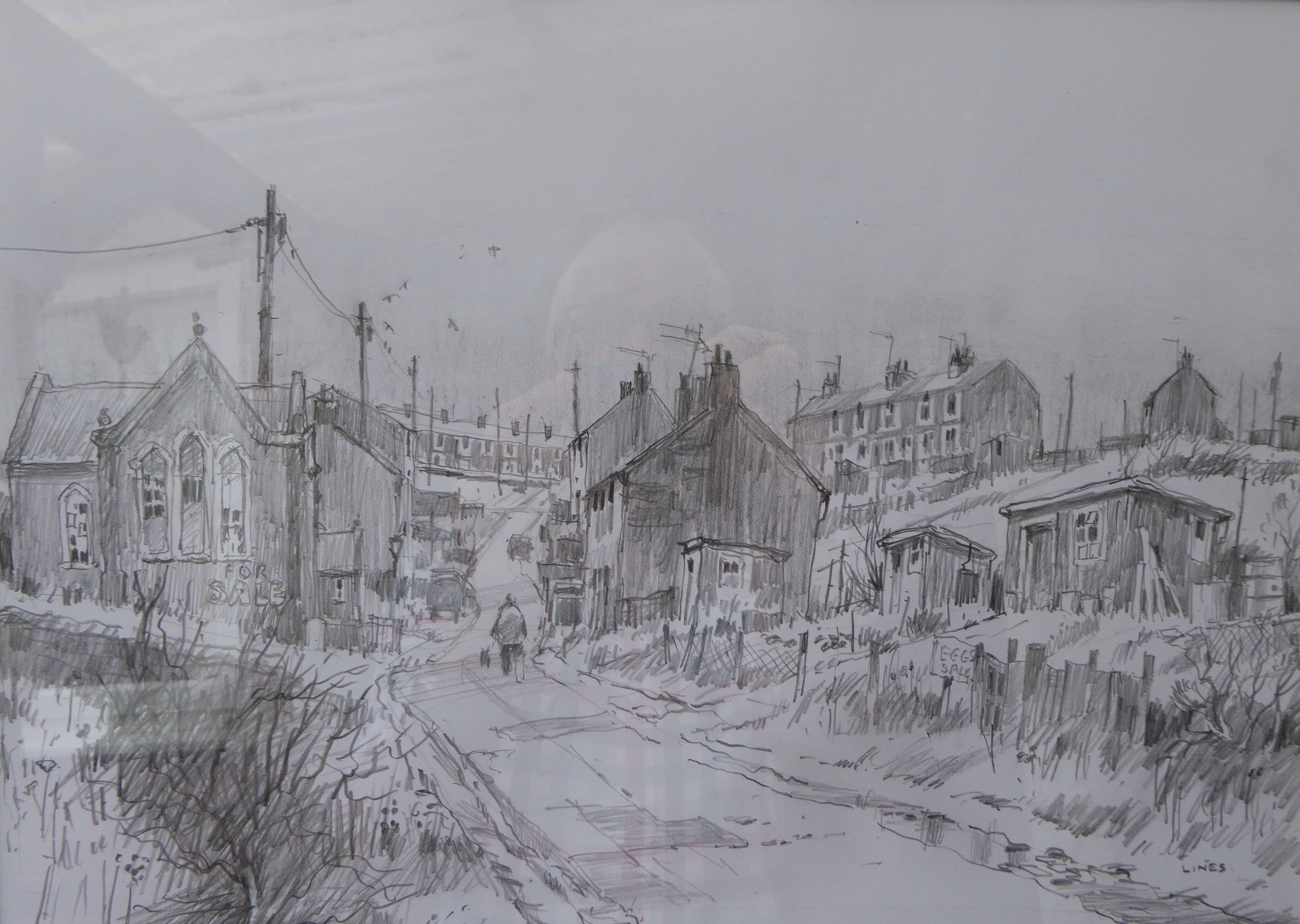 John Lines' stated aim is to 'simply paint through honest eyes', and this is evidenced in his approach to British urban scenes and Welsh landscape subjects.
Nicholas St John Rosse paints a wide range of subjects, but most are centered around the human figure. "In recent years I have used beach settings, in particular at the water's edge," he said. "I like to find ways in which the figure can relate to water and sand both in reality and pictorially."
David Porteous-Butler's work reveals an affinity with his subject that is driven by his love of the natural world. Suffolk and Wales provide much of his inspiration, although he has also worked extensively in Southern Europe, including time in France and Italy. "He is always faithful to the truth in what he sees," said Mary Yapp. "David is truly a protégé of, and remained close to, Sir Kyffin Williams, sharing his fundamental belief that drawing and draughtsmanship are a vital part of the artist's craft."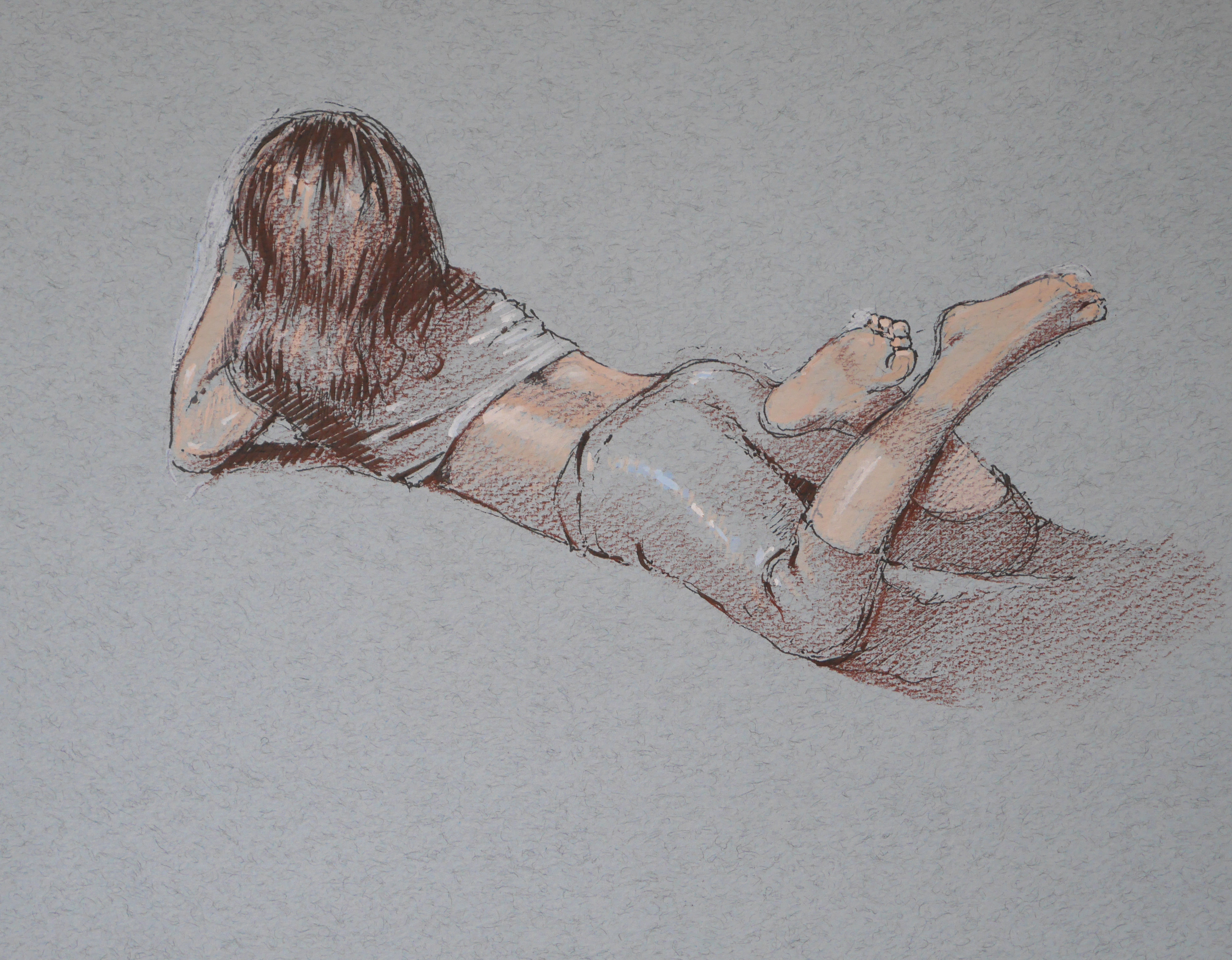 Like Porteous-Butler and Kyffin Williams, Colin Carruthers often works with a palette knife, so this show will be an interesting opportunity to see the drawing skill that underpins his craft. Originally from Northern Ireland, Carruthers makes frequent trips to the countryside and coast and draws inspiration from his travels.
"In total, we have 35 artists in the show, which brings together a huge range of different styles and subjects," said Mary. "There really is something for everyone, and purchasing a drawing can often be a more affordable way to own work by an artist you love. I'm sure visitors to the gallery will enjoy seeing what these artists can do."